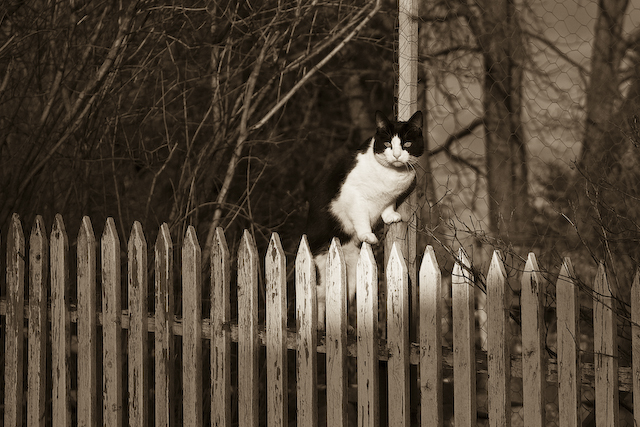 Katze im letzten Sonnenstrahl / Cat in last Sunbeam
Manchmal hat man als Fotograf einfach nur Glück. Diese Katze sprang in den letzten Sonnenstrahl. Selbstverständlich muss man diese Augenblicke voraussehen. Man sieht die Katze, man sieht den Zaun, man hält auf die Stelle, wo die Katze hoffentlich bald sein wird, stellt scharf, Belichtung checken, abdrücken! Natürlich geht da das Adrenalin hoch.
Sometimes a photographer has simply only luck. This cat jumped into the last sunbeam. Of course you must presuppose such an instant. You see the cat, you see the fence, you focus the point you expect the cat in the next moment, check the exposure, shot! Naturally there the adrenalin goes highly.
Aperture: ƒ/4.5
Credit: Thomas Hildmann
Camera: Canon EOS 10D
Taken: 19 February, 2008
Focal length: 75mm
ISO: 200
Shutter speed: 1/1000s