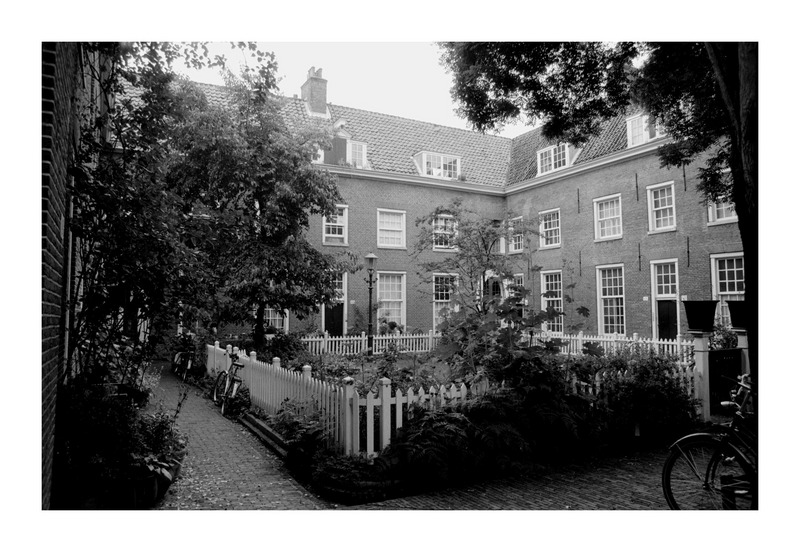 Einer der malerischen Höfe (Hofje) in Amsterdam / one of the picturesque hofjes of Amsterdam
Leider kann ich meinen Aufzeichnungen nicht mehr entnehmen, um welchen der Höfe es sich handelt. Nur noch wenige konnte man besichtigen, obwohl eine ganze Reihe im Reiseführer als Sehenswürdigkeit aufgeführt waren.
Am ersten Tag wollte das Wetter nicht wirklich mitspielen. Den ganzen Tag nieselt es. Dunst liegt über der Stadt. Aber die Luft ist recht frisch und das feine Wasser öffnet meine Nase. Amsterdam riecht frisch, an jeder Ecke anders und neben Wasser, Menschen und natürlich auch Strasse riecht man hier oft Blumen, frisches Gemüse oder einfach nur feuchten Erdboden.
Unfortunately I can't extract of my notes any longer which "hofje" this is. Only very few are open for public, even though many are listed as worthwhile within aour tour-guide.
During the first day the weather didn't want to be fine. All day rain has been drizzeling about. The city was covered in mist. But the air is relatively fresh and the spray-fine water opens up my nose. Amsterdam smells freshly, differently at every new corner, next to water, people, streets there is a smell of flowers, fresh vegetables or simply moist soil.